FR UFR Street AP review | A great premium aggressive skate, coming from a brand known for freeride and freestyle skates.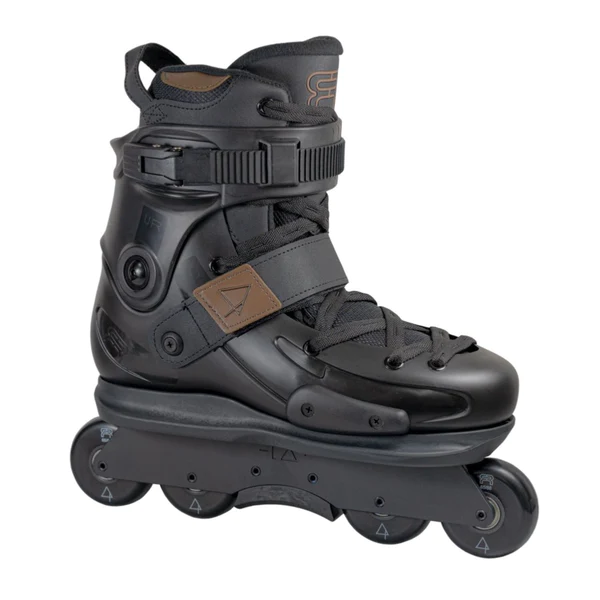 I recently started with aggressive skating because I'm stuck in a city that is somewhat less optimal for urban skating. This of course means that I needed a new skate that would fit my style of skating best while also giving me the option to perform well in a skatepark.
For me that is a clear choice: the UFR Street AP FLAT. It has a liner I'm used to and a shell that is very similar to what I already use. If you haven't guessed it yet, I am used to an FR1 boot.
Opting for the UFRs made it so I could skate with a boot that feels as similar as possible to the one I'm used to. Raised heel, similar liner, similar support from the cuff and the exact same sizing. For me, that's a no-brainer.
But that doesn't make it a godlike skate that is perfect for everyone. Let's take a closer look at what it exactly is.
The Boot
The boot of the UFR is very similar to the boot of an FR1 like I mentioned earlier. It has a great liner that offers both support and comfort when you tighten the laces correctly. It has a raised heel, which most aggressive skaters aren't used to. It's not necessarily a bad thing, but it is good to be aware of, as it will have a big influence on how you skate. The boot also feels tighter than most aggressive skates, which allows for more control over your frame, something I like a lot. It allows me for example to jump and land on one skate and ride on one wheel comfortably.
The biggest takeaway about the boot, even though I really recommend it as it feels great, is that this is a very personal choice and that your feet might just be different, making it so a different skate would fit you better.
The Frame
The FLAT AP frame is a bit special. With a (big) replaceable H-block and a wheelbase of 267mm that allows 4 65mm wheels, this frame is one of a kind. The frame is made out of aluminum, which allows for a more responsive frame with more energy transfer than the usual plastic aggressive frame. It also comes with a flat setup, meaning it is a lot easier to gain speed, most certainly combined with 65mm wheels. This combination is amazing for gaining speed and jumps.
I also like that the H-block (which is made out of plastic) is easily replaceable. This way you don't have to throw the entire frame out when your H-block is worn out. But don't worry, despite it being a plastic part, it is very durable so you won't have to change it very often.
Something to keep in mind though is that this is not the lightest frame on the market.
Something I like less about the frame is the way the H-block fits on it. It is mounted in a way that while you're trying to land for a grind, you can sometimes get stuck between the edge of the H-block and one of your middle wheels. Is that a problem? For some it may be, because you'll have to be more precise with your jumps as there is no way of landing on the frame and sliding into the middle of your H-block. If this might stop you from buying this frame, you might want to take a look at the GC Featherlite 2 Freestyle frame, where you will never have this problem.
If you are still up for the challenge and aren't afraid to put more effort into precision, this is a very good option for you. Which is one of the main reasons I decided to get this frame as well. For me it is a way of learning how to grind properly, even if I decide to get myself a different frame later on.
Wheels
While I'm not a big fan of wheels with a flat profile, I do like the way the Antony Pottier wheels ride. They're still different from the bullet profile wheels I'm used to, but they actually don't feel bad compared to other flat profile wheels I've tried. It is very likely that I will put some bullet profile wheels on these instead, but at this moment I'm happy with them. Especially since they come with Twincam MW9 bearings, which I absolutely love.
Verdict
I absolutely love these skates. I am glad I found them. The only real downsides are that the frame is a bit on the longer end and the H-block being one that requires more precision. Based on this, I might try out different frames in the future, but I'm really happy with these.
Joachim