Inline skate spots and roads in Antwerp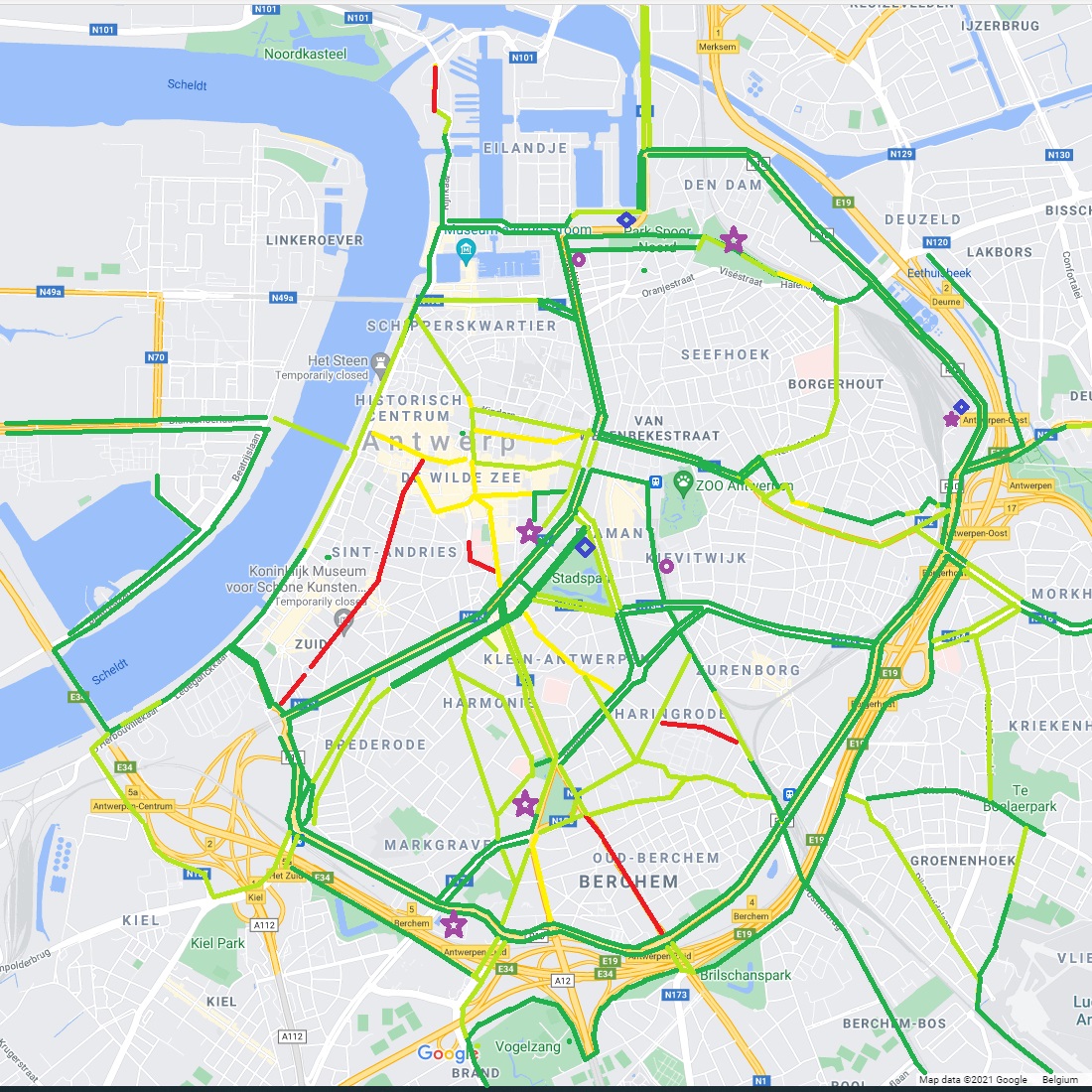 Firstly, the roads in the city have vastly improved for Antwerp inline skating! Over the last couple of years, both Antwerp's streets and the Belgium inline skate scene have changed a lot - for the better.
New bike lanes have been placed; not only in Antwerp center but also throughout intercity skate trails in Belgium! The best way to plan intercity skate journeys through Flanders would probably be: www.fietssnelwegen.be. There you will find an overview of Belgium's best skate routes, also known as "Bike Highways". I suggest you also check out Skate Vlaanderen and our tour related posts for more tips.
Since Google Maps shows bike routes, but does not indicate how good the surface is for Belgian inline skaters, I have slowly but surely started to indicate the best roads in Antwerp for skating.
I have to indicate: this Antwerp skate map is not 100% complete or maybe even correct: Antwerp is currently rebuilding all the old roads and as this process advances. I expect more skateable roads in Antwerp to appear soon. Increasingly, Inline Skating in Antwerp is becoming easier and more enjoyable.
Here's the key to understanding the Antwerp Skate Map:
Dark Green: These are the roads you want to take, Best asphalt in Antwerp only.
Light Green: Acceptable, you can use them to link between the best roads.
Yellow: Not really recommended. They are generally not that nice to go down, but sometimes useful for getting to places you wouldn't go on skates.
Red: AVOID, the roads that I have coloured red you want to avoid, they are a pain to skate down and no one will have fun there.
Purple stars: My favourite Antwerp slalom spots with only the best asphalt. Some are sheltered from rain, all are sheltered from traffic.
Purple circle: A little car free place right by central station, Kievitplein. A quiet Antwerp skate spot.
Blue diamonds: Antwerp Skate parks, or similar. The biggest ones being Park Spoor Noord skate park and 't Stadspark skate park (Central Park).
(And yes, at some point I will upload some photos of each spot in a more detailed slalom post!)
We hope this map helps you when visiting Antwerp on skates. If you're in need of equipment or advice, just send us a message or check our stock. And remember folks - keep skating!
Alex