USD Aeon 80 - A Sliding Tiger Review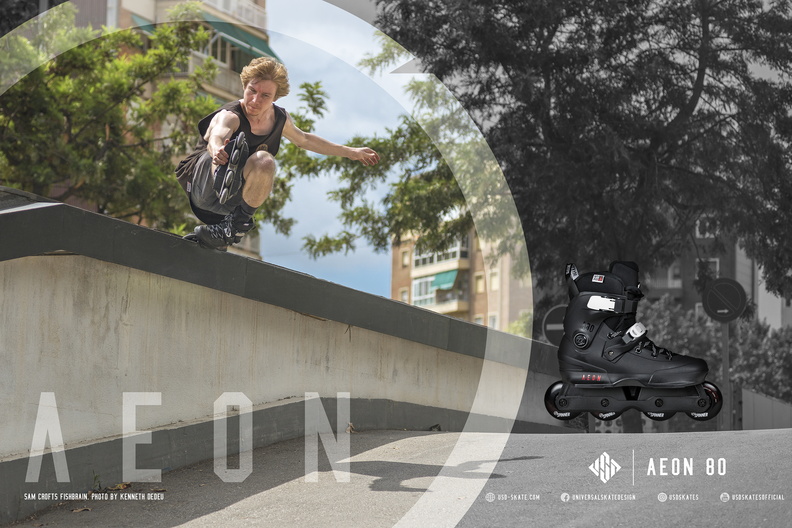 USD is one of the biggest brands in aggressive inline skating. Their Aeon line is very popular and comes in variations with 60, 72 and 80mm wheels. The 60mm wheel variation is the most popular one as this is the most used in aggressive inline skating. The 72mm are in between an urban wheel setup and an aggressive. The 80mm model has the same size wheels as a freeride urban model but still manages to make space for an h-block, a soul and negative plate and this without having a ridiculously long frame. All the Aeon models come stock with a flat wheel setup. While this setup is great for having extra manoeuvrability and speed, it does make grinds a bit harder to do.
A unique and special feature of the Aeon skates is that they have a unibody construct. Most aggressive inline skates use the UFS frame mounting system. That means that you can remove the frame from your boot and put on any other UFS frame on it. A very useful and cool feature but there is one small difference with the unibody construct. While you won't be able to switch frames on the Aeons you will have a lower centre of gravity and more control. The Aeons due to their unibody construction have the lowest centre of gravity possible for their wheel sizes, by removing all the frame screws and parts in between. They also feel very stable because of the one-piece construction.
Even without UFS though it is possible to change frames or replace soul plates on the USD Aeon skates. USD sells separate Aeon shells for the 60 and 72mm wheel models. That way you can keep your liner, laces, buckles, cuff, wheels and bearings and you just need to replace the shell which is one piece with the frame. That way you can replace a worn-out soul plate or change your frame wheel size.
The USD Aeon 80 skates are the perfect hybrid between city and aggressive skating. The 80mm wheels allow you to reach very high speeds and easily use them to commute from place to place. Furthermore, the soul and negative plates are relatively big. The only part which is compensated a bit if the h-block which is relatively small. Perfectly possible to do grinds on it but just needs a bit more precision.
The fit of the skate and the buckle closing system are also very good. The MyFit liner is comfortable out of the box but also heat mouldable to make it even more comfortable. The closing system consists of two separate lacings, on the shell and the top part of the liner for a customised fit. They also have a top buckle and ratchet ankle buckle for added performance. A small side-note concerns the ankle pain which some people experience with the Aeon skates. If this happens to you the best way to solve it is by changing the cuff. Usually replacing the cuff (for example with a
Razors Cuff
) will take away any ankle pain.
As a purely aggressive inline skate these would suit experienced aggressive skaters who want to level up their game. It is not the ideal aggressive inline skate for beginners who want to learn grinds. The soul and negative plates are big enough, but the h-block is a bit smaller (due to the 80mm wheel setup).
Surprisingly this skate actually performs very well as a freeride urban inline skate. It doesn't have the typical heavy and slow feel of an aggressive inline skate. It is extremely fast on the street and very responsive. It is also very strong and has good power transfer as well as stability due to the unibody construct. Therefore, it is a very interesting model for inline skaters who actually mostly enjoy cruising and freeriding and don't like the feeling of small wheels. If you will be mainly freeriding, cruising and doing tricks with the skates but want to be able to grind here and there this is the right model.
The video bellow shows our team member Yason cruising on the USD Aeon 80 skates…as you can see these skates are very fast…