Sizing Guide for Inline Skates
Picking the right size for your inline skates is very important. An inline skate that fits well should give you the feeling that your foot is one with the skate. Below we will discuss what is important to look at when trying out new inline skates to make sure you have the right size.
Foot size
Nearly always your inline skate size will be either your normal shoe size, or one size up. Next to using your normal shoe size, it can help to measure your feet in cm. You can do this by taking a ruler and placing it against a wall. Then stand upright with both your heels against the wall and your toes facing away. See how far your big toes get on the ruler and this is your foot size in cm. When doing this to get the most realistic size for your inline skates wear the socks you usually wear when skating. If your doing this barefoot add 2 mm to your foot size to make sure you have space for your socks. Most inline skate brands mention the EU/UK/US and cm or MP (Mondo Punto stands for world size and is equivalent to your foot size in cm) size. Knowing your foots length in cm is useful because an EU44 can range in length between for example 28 and 28.5 cm depending on the brand and model. Considering an EU43 can range between 27.5 and 28 cm it means that if your foot length is 28 cm you can have EU43 in one model and EU44 in another.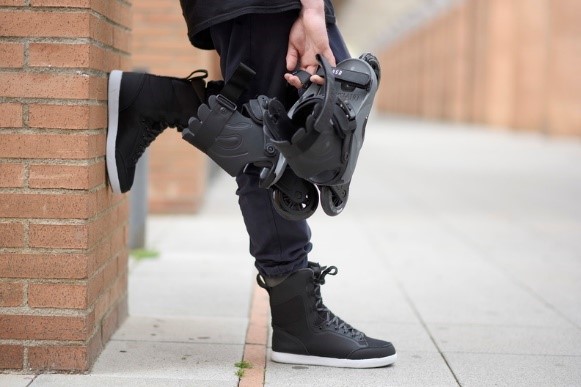 Inline skate length
The perfect fit when trying on an inline skate is that when sitting down, the toes should just be touching the end of the skate. If the toes have to be bent in order to fit, the skate is probably too small. If the toes are not touching the end of the skate it is probably too big. If the toes are just touching the end of the skate you have got the perfect fit. The same fit applies for when standing on your skates with straight legs. When going into skating position (with the inline skate straps and laces correctly tied and with the knees bent so that they are above the toes) the toes should come loose from the end of the skate and there should be a bit of space to move. This is when you know you have the right size. When trying on new skates the length is the most important factor. If the skates feel a bit tight in the beginning it is because they still need to be 'broken in'. After using them for a few hours they will feel more comfortable.
We can't stress it enough: resist the intuitive reaction to evaluate your new hardshell inline skates as too small immediately after you put your feet in them. Yes, they will feel too cramped, because you are not used to having your entire foot surface in contact with an inner shoe. Yes, your toes will be touching the front of the liner, and with regular walking shoes this means they are too small. And yet you have the right size if you have followed our size advice. Take the time to tighten your inline skates thoroughly. Even more thoroughly than when actually riding them. Put on both skates, not just one. Then stand up straight and bend your knees. Only now should you have a few millimetres of space at your toes. Remember that it is no fun if your skates are too big.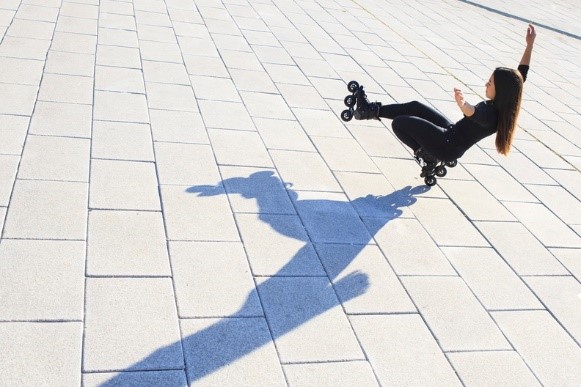 Inline skate width
Some inline skates are made for narrow feet and others for wide. Usually the models for wide feet will fit people with narrower feet as well. If there is a bit of extra space in the ankle area, the MyFit Footies can help fill that up. For a bit of extra space above the foot adding an extra insole like the MyFit tech insole might be a solution. If you have wide feet and the inline skate model you are trying is the right length but really too narrow, try a size up.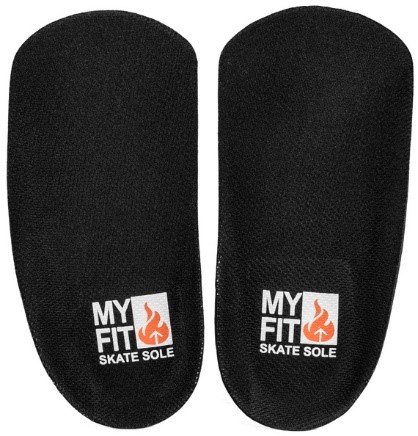 Advanced explanations about shell sizing in hardshells
Inline skates boots can be hardshells or softshells (or have an integrated liner). A hardshell is defined as an inline skate with a removable liner which fits in the outer shell. Shell sizing is particularly important in hardshell boots because often two or three inline skate sizes share the same shell.
For example the FRX 80 is a hard shell boot where for size EU 41 and 42 the same shell is used but a different liner. The size difference between the two skates is only because of the liner but the hard outer part (the shell) is the same. That is why when trying on the skate size EU41 or EU42, you will likely feel a smaller difference in the size than when for example trying an EU42 and EU43. If you do not know about shell sizing the difference in size between skates can be misleading. A person with size EU41 will most likely fit an EU42 in this example. However a person with size EU42 should be more careful when trying on a size EU43 skate because he will not only have a bigger liner but also a bigger shell. The importance of shell sizing is that two shoe sizes that share the same shell will have really a smaller difference than two shoe sizes with a different shell.